table of Contents
(1) First understand the macros in FreeRTOSConfig.h.
configKERNEL_INTERRUPT_PRIORITY
This macro defines the kernel interrupt priority and determines how many priorities can be.
configMAX_SYSCALL_INTERRUPT_PRIORITY
This macro is to define system interrupt permissions. The interrupt cannot be disabled by the interrupt that is higher than the interrupt priority.
For example: STM32 is set to 16 priority levels, with 0 being the highest and 16 being the lowest. Configured as configKERNEL_INTERRUPT_PRIORITY=15,
configMAX_SYSCALL_INTERRUPT_PRIORITY=5.
The high level interrupt 0-4 will not be blocked by the kernel.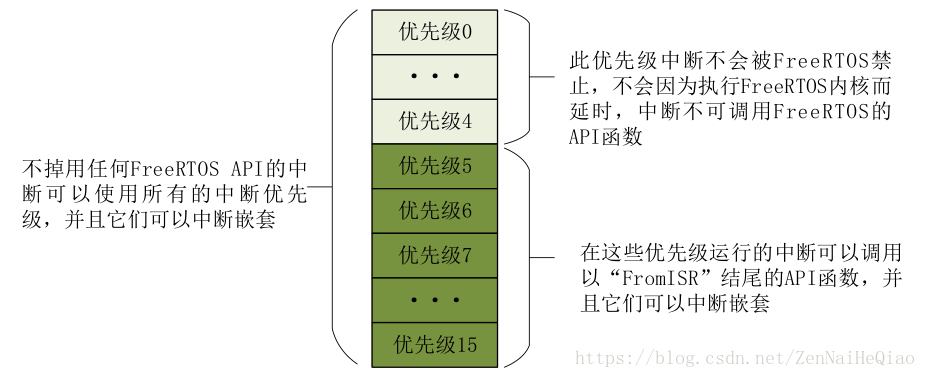 (2) FreeRTOS switch interrupt
portDISABLE_INTERRUPTS(); off interrupt portENABLE_INTERRUPTS(); open interrupt
Interrupts below configMAX_SYSCALL_INTERRUPT_PRIORITY=5 are blocked. Interrupts above configMAX_SYSCALL_INTERRUPT_PRIORITY will continue.
(3) Critical section protection
taskENTER_CRITICAL() and taskEXIT_CRITICAL()
Task-level critical protection code, one entering the critical section and one exiting the critical section.
taskENTER_CRITICAL_FROM_ISR() and taskEXIT_CRITICAL_FROM_ISR()
The interrupt level critical protection code, one enters the critical section and one exits the critical section.